Hall facilities
We offer a modern way of separating work space for people in large-scale facilities such as warehouses and production halls. Thanks to our system, we create comfortable conditions for the efficient work. We provide the optimal solution taking into consideration the functionality of the room, as well as protection against harmful conditions such as noise, air dust, temperature influence, etc.
Tripolis hall facilities provide:
clean assembly and disassembly without production interruptions
simple and quick replacement of system components
100% use of material when changing the location of the object
high quality materials ensuring long-term use
easy to clean
special acoustic solutions
modern design
Facility types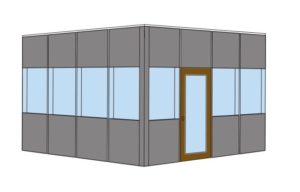 One-storey
The object located directly on the floor of the hall allows comfortable working conditions for people while maintaining contact with technological processes. At the same time, we obtain a space to which we can provide counter access.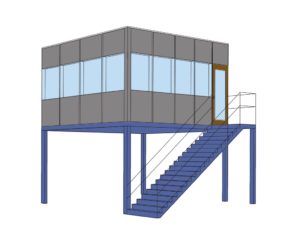 Stilted
By using an elevated steel structure, we obtain a room for people to work without losing the hall space. Steel entrance stairs installed in any configuration are part of the facility. In addition, the higher level allows employees better control and view of the hall.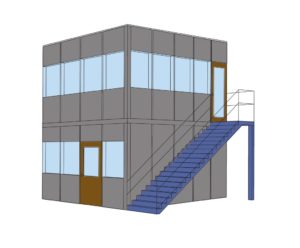 Two-storey
The two-storey building fully uses the height of the hall. On a small area we create space for work and rest for people. The steel supporting structure can remain visible or hidden inside the walls.

Location of facilities in the hall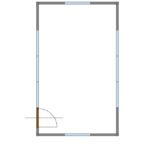 Detached facility – has four walls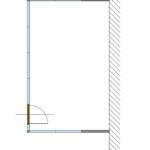 The facility by the wall – has three walls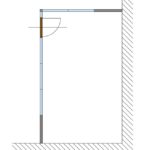 Corner facility – has two walls
Technical information
Steel falsework: steel profiles protected against corrosion and painted according to RAL; visible or hidden inside walls and floor.
Walls: 80 or 100 mm thick, made of aluminum profiles; filled with solid or glass modules; it is possible to run electrical, water and IT network instalations inside the walls.
Doors: single-leaf or double-leaf in an aluminum frame; side-hung, swing, sliding leaves with manual or electric control; the possibility of using industrial rolling gates.
Ceiling: due to load-bearing requirements, thermal and sound insulation, we use non-entry slabs, bearing floors for 1 person for cleaning and maintenance, and bearing floors for a normally functioning office.
Floor: According to the user's requirements, we offer different floor standards with a wide selection of finishing materials such as carpet, pvc, floor panels, sheet metal, etc.
Available additions: on request, we equip the facilities in accordance with the user's requirements with lighting, electrical installation, ventilation and air conditioning as well as electric heaters.